The CD "Inward Voice" with music of Robert Schumann, Anders Eliasson and Franz Schubert of the American concert pianist Beth Levin will be published in America on the 8th of January. For "The New Listener" I'm asking her about herself, the way of her unique style of playing and her new CD.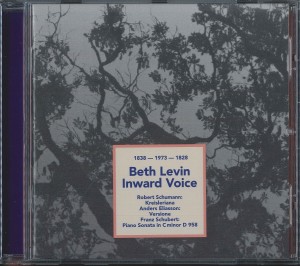 [Oliver Fraenzke:]
First of all I would like to talk about your origin and your influences. Your way of playing the piano is not the usual way we hear mostly, you developed a completely unique style that is more comparable with great masters of the early second half of the 20th Century than with contemporary pianists. Who have been your most important teachers and what have been other significant musical impacts? And why did you come to the decision of trying something new instead of just copying the well-known and fashionable habits of playing?
[Beth Levin:]
I feel that I have my own voice at the piano and if it is distinctive I am glad, but I haven't set out to be different.
Having Marian Filar, Rudolf Serkin and Leonard Shure as teachers and growing up with the sound-palette they created naturally impacted my own playing. But again, each of us has his/her own voice at the instrument. For better or worse we cannot change it.
I think we all try to meet the demands of the music, and we use everything we have – ear, technique, knowledge, experience – to fulfill it.
So we can't change our natural given sound, that everybody has unalterably. But what is it than we can work on to improve our playing?
Well I think that desire plays a large role in developing our technique and artistry at the piano. The more we want for the music the more we will grow.
Don't be too satisfied. Reach for what you imagine and hope for the music in terms of sound, structure, phrasing, emotion, color- and you will grow as an artist I think.
In lessons Leonard Shure would listen to a phrase or two of music and ask "why?". This was often disconcerting to the student. He never explained – you had to come up with reasons for each phrase of music.
Also I think that listening is so important- listen to singers, to strings and of course pianists especially the vintage recordings. One phrase of a Maria Callas can be life changing for your own playing. And let everything affect you- nature, art, literature…put it all into the instrument.
It is very interesting that you share the opinion that vintage recordings are more important than contemporary recordings, because for me your personal sound is also much more as if it were from that time. Why is it the vintage recordings that impresses you most? What do earlier pianist play "better" than today's musicians?
It may be a flaw of my own, but I am very drawn to the old recordings. I find the performances much freer on the whole, deeply felt and also that they relay a sense that the works are being recorded as a whole rather than pieced together.
Of course we have brilliant musicians now but the pressure to be perfect sometimes overtakes the artistry.
Is this the reason – to do "artistry" instead of mindless "perfection" – why you hesitated so long to reach fame and become an international concert star? Or is it more the fear of not having any life left beneath giving concerts all over the world?
I don't know….let me think about this more…
Maybe I'm just happy when I have a concert coming up or any musical project, even if it's happening around the corner. You know? I didn't seek international fame, but I'm certainly thrilled at some of the attention I'm currently receiving.
I feel I have a great musical life, even if it is on a smaller scale. Also I wanted children very much and fashioned a life that would allow me to be in music and be a mother. I think that might have kept my musical life in check a bit.
You already mentioned three names of your most important teachers. Is it possible to focus the most important things you learned from them, what made them so significant for your own way of playing? Maybe you can say something about them, who they were and why you chose exactly them.
Marian Filar was like a father to his students and really allowed us to blossom. He was such a sensitive artist and when he played he had a gorgeous singing line and a special refinement. Listening to him play was an education. He and I shared the same birthday!
He stressed voicing, style, fingering and he fostered one's deepest musicality. When I auditioned at Curtis Institute I had been brilliantly prepared by Filar. Also I performed two Beethoven concerti with the Philadelphia Orchestra under his guidance.
My time with Rudolf Serkin was almost a kind of musical adolescence because I was discovering new repertoire and chamber music. I was changing as a young artist and was not at all sure of what I was doing. My technique had been totally natural but now I was analyzing it and wanting more from it to match the larger, more demanding repertoire. He was a great inspiration at Curtis and at Music from Marlboro.
I had heard about the brilliant musician Leonard Shure from friends and knew he was going to be teaching in Boston. I literally knocked on his door and asked to play for him. He agreed and took me on as a student. He had an aesthetic close to Serkin's but was even more demanding. I know many people who never got beyond four bars of music in lessons. I think the structure he built in a performance was unforgettable and a great lesson to us as we studied works of Beethoven, Schubert, Schumann, et cetera. And he was a great chamber music coach.
Dorothy Taubman lived in my neighborhood in Park Slope, Brooklyn and I became her student after moving to New York. I had young children at that point. She was a guru with technique which I think we always want to see to widen and grow. She could instill a great sense of freedom, adventure and curiosity in her students.
It looks like you have chosen splendid teachers for your way towards the music. After your explanation it seems you had the possibility of getting in contact as well with standard repertoire as with completely new and unknown pieces. On your latest cd, Inward Voice, we can hear one of the (yet) unpopular composer, the swedish master Anders Eliasson. Where and when have you heard of him first, was it with Rudolf Serkin?
The conductor Christoph Schlüren introduced me to Eliasson- I hadn't known his music before. Now I've recorded two of his works for piano and hope to record a third next year.
I'm drawn to the spiritual aspect of his music, the rhythmic vitality, expressive ideas and its enigmatic quality.
Why was it among all composers Anders Eliasson that could enthuse you so much? What is it that makes him so special and unique?
I enjoy discovering new composers and Eliassson is both easy and difficult to understand. So the challenge of it is one thing that attracts me to his music. I like that his language is modern and yet there are roots to the western musical traditions which enables a player to feel somehow grounded even when the music is not familiar. It took me a while to see that I could be expressive and make a long line and could take my time inside of the score. I'm actually still on that journey with Eliasson as I work on the Disegno 3. I'm awed by his symphonic work and little by little hope to hear more of his output. I am working on his music today I also feel an inevitable, organic quality always present.
In America you are especially known for performing contemporary music. Do you think, all in all it is easier to become famous (corresponding in a special circle) by playing modern music? And what kind of the new art of sound do you prefer most?
I've been fortunate to have many fine composer friends whose music I like to perform. There is something great about receiving a new work in the mail with the ink barely dry. And to be able to work with the composer and discuss the music first hand.
Fame isn't something to really predict or to try to decipher. One should simply work from the best intentions, always from the purest impulses and some notice may follow. Or it may not.
If 21st-century music is something you love most then you should follow that path. I wouldn't say it necessarily brings fame along with it.
I think I play what I play best- but sometimes experiment with the unknown and see where it leads.
Beneath your steering towards contemporary composers like Scott Wheeler, Andrew Rudin, Yehudi Wyner, David Del Tredici, Mohammed Fairouz or the already mentioned Anders Eliasson you also have a passion for some etablished masters, especially for composers of the early 19th century like Ludwig van Beethoven, Franz Schubert or Robert Schumann. Why is it this epoch that draws you so much into it?
I have played much Russian and French repertoire as well, but have not recorded it.
But I think sometimes I do best when there is a great deal of structure and discipline to the music as in Schubert, Beethoven, Brahms and Schumann. I like when one's emotions can work inside of a strict framework. The result can be very poignant and powerful. My teachers, especially the great artists Serkin and Shure, lived inside that repertoire and could relay a sense of that particular epoch.
And are you going to record the Russian and French music one day?
Mainly you have recorded extraordinary large works such as Bach's Goldberg Variations or Beethoven's Diabelli Variations as well as his last three and extensive Sonatas. Do those works mean a special challenge of the form for you, that inspires and attracts you?
Yes- I hope to record more and more and include French and Russian repertoire.
I think I have unconsciously followed my teacher's kind of programming that always included large works- I like the "Mt. Everest" works for the challenge and the all-encompassing feeling one receives from working on say the Goldberg Variations or Diabelli Variations.
Is there one favourite "Mount Everest" for you?
I keep daring myself to learn Op. 106, Hammerklavier, of Beethoven. But sometimes you just have to be happy that others have done it so well and perhaps let it go.
The B flat piano concerto of Brahms is another "Mt. Everest" for me- I'd love to perform it some day.
I think of some of the unexplored modern music as Mt. Everests. I hope there will be as yet unwritten ones waiting for me in my future.
In the end, nothing is easy. A Mozart Fantasy, say- to reach its simplicity and honesty is another kind of Everest.
This is a very true sentence, that also a little piece of music can be a Mount Everest. If I'm allowed to ask, what is the hardest peak to reach for you, on what kind of technique or musical demand do you have to practice most?
Generally speaking I'm aiming for a musical goal in any given phrase and if the technique doesn't achieve what I'm after I really search for solutions. I don't think about technique very much- that may be a flaw. I don't know. I desire things in the music and reach for a technical way to create them. Never the other way round.
Technique is truly our servant, but without it we can't do much. I admire technique in other players, but never above reaching for a musical goal. I'd rather hear the wrong notes if someone is obviously aiming for something divine.
Could you please give me an example: So if you are working on Beethoven's Sonata Op. 111, what makes this one so difficult and so special? What is your musical goal playing this sonata?
In Op. 111 of Beethoven for example the music is almost more of a blueprint. You have to aim to meet the fullness of score, or match its demands. See behind the notes (take the fistfuls in the final movement) to the color, motion, and structure that the notes create.
In a work such as Op. 111 Beethoven is traveling somewhere special and the pianist must take that journey.
It's a great challenge and a joy.
I think in works such as Op. 111 the performance itself leads to new ideas and opens new doors to sound…
I was thinking today, apropos of nothing really, how eloquence is such an important idea in music. Much like acting- when you watch a great actor and see how eloquently he or she turns a page, or stands up or uses his/her voice and facial expressions. And how he/she portrays something.
In music too we have to portray the music- take the notes and phrases and say something. I remember playing the Appassionata sonata of Beethoven as a young person and feeling so close to it- I knew I could portray it well because I had those emotions in my being. We have to own a large repertoire of emotions I think to portray a piece of music.
Anyway, how we play a phrase of music is important-how eloquently we state it.
Now we have been talking a little bit about a technically really difficult sonata by Beethoven, but what about a technically more easy work by Mozart? Do you take the same way to learn such a piece or is there anything different – or everything?
I don't think there is a difference- you're looking to find out what the music is doing, its direction, emotional context, structure. Easy usually winds up being deceptively easy.
The last piece of "Inward Voice" is Franz Schubert's Sonata No. 19 in C minor D 958. It is the first of the great three last sonatas of this short-lived composer, they build like a cyclical entirety even though each of these sonatas is very long. Why have you chosen this sonata out of the three? And would you agree that these sonatas have a special connection and a compelling cyclical form? Often you can read that the last movement of D 958 is much too long, just a ten minutes hunt without purpose that leaves the listener irritated and confused about what just occured – would you agree with this allegation? What do you see behind this coursing and what's its message?
I'm working on D 959 now- perhaps I'll get to experience playing all three and see the connections clearly. As you know I recorded the final three piano sonatas of Beethoven and for me this was a perfect next step, a perfect foil.
The influence of Beethoven seems strong – even down to the key of C minor. Perhaps Beethoven's death affected Schubert deeply and opened the way for him to write these last sonatas in the way he did. I think there is the most contrast here – light and dark- and the final movement does gallop. Picking the right tempo might be the clue to succeeding in the
Tarantella. I don't agree that it is too long.
Schubert died four months after completing the last three piano sonatas – a darkness permeates D 959 so perhaps he knew that he was not long for this earth.
Apart from Schubert and Eliasson there is another great work on "Inward Voice", Robert Schumanns cyclical "Kreisleriana. Fantasien Op. 16". You made something with this that is really special and unusual: You recorded the whole cycle in one long take instead of splitting it up in its movements. What was the reason for this?
I think when you study Kreisleriana you begin to feel that certain pieces belong together and that the timing between movements is very crucial to the performance. When I performed Kreisleriana live the timing was at the essence of the thing and I wanted to try to keep that in the recorded version.
Last but not least I would like to ask what you want to say to today's artists. Is there anything you'd like to criticize in our music life, are there any advices you want to give to upcoming artists on their way, or is there something else you just would like to say?
Never lose your sense of obsession or your humility. I think young musicians today seek only fame and fortune and get caught up too soon in the business end of things. When I studied with Shure and Serkin our role models were different. We went after the art of making great music and less the outward reward. Always be a great observer and a great listener. Question the music, and use every influence in nature, art and life to better yourself as a musician.
The people I like most in music are the humblest. I mean I used to watch Rudolf Serkin give a recital and then go into a practice room to work on things he felt could have gone better. Imagine!
Specifically at the piano – develop your ear. Listening is almost everything and listening for something is even better – the desire!
Beth Levin: Inward Voice
Aldilà Records ARCD 005
EAN: 9 003643 980051
[to the German review]